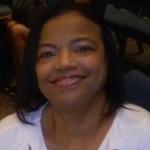 My name is Felicia C. and this is
MY GILGAL STORY

!

I am a former resident of Gilgal and even though I did not successfully complete the program, the time I spent there has changed my life in more ways than I can tell.  Instead of focusing on the fact that I did not graduate, I used the lessons I had learned while there and the love I know that my God has for me to do the "next right thing. "

It's been amazing! My family relationships have been restored. Previously I had not spoken with my older sisters since 2000. We were separated at a young age and our relationships were precarious at best.  My attitude only made it worse. Being around the ladies at Gilgal made me realize how much I missed my sisters. While at Gilgal, I lost my younger sister so when I left I promised myself that I would have a better attitude and lose the need to be right.

Not only have I reconciled with my three sisters, but we have found our oldest sister who is 71, a younger sister age 50, and — the biggest thing — our birth mother who is 89 years old!

God has really blessed me in so many ways. My daughter trusts me with her children and I do love my little grandsons to the moon and back. God has truly blessed my life in more ways than ever.

CHANGE HAPPENS AT GILGAL and Felicia is living proof!  If you have a Gilgal story to share, we'd love to hear it.  Go to www.womenofgilgal.org/mygilgalstory to share it with us.