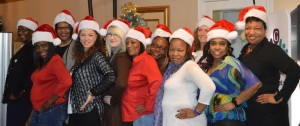 A Special Christmas Message to Our Family and Friends
Night falls early this time of year, as darkness covers the world outside.  Up in the sky, a tiny light glimmers, piercing the darkness with a soft ray of white.  Far beyond this bright little star are marvelous creations too magnificent to imagine.
Pondering this truth, we sit in awe at the One who constantly creates these new designs. His omnipotent presence moves through space and time.  What an awesome God He is.  So far above what we can think or know.  And it is this God, the amazing Creator of all things, who also created us.
Gazing at the star atop our tree, we are overwhelmed with peace.  Breath escapes us as we close our eyes, remembering that we belong to Him. He is our Father.  And as His children, we know we are protected by His sovereign power and held in His never-ending grace.
"My peace I give to you," whispers through our hearts as we think of the first Christmas. The darkness was overpowered by the pure Light of heaven sent down from above.  The peace that is the season points us to the reason for this peace – Jesus Christ, the Savior of the world.  His unconditional love and sacrificial offering delivered to mankind the greatest gift we will ever receive, Eternal Life in Him.
Just like the galaxies born each day, we too have been reborn. Transformed to new life and continually renewed, day by day into the image of God's Son.  The hand of the Creator still holds creation's hand, and is forever leading us back to Him.
Never before and never again in the history of mankind will there ever be a greater love than the love of our Father.  Mankind's most valuable treasure, wrapped in the unseen hand of the author of the universes.  Jesus, God made man, who came to reveal to us the Father. All that we will ever need is found in Him, our wonderful Prince of Peace.
Change Happens at Gilgal — and it's all because of Jesus!
Merry Christmas!