GILGAL CHANGEMAKER

Brad Jude

 – Resume Coach

No doubt everyone can relate to the anxiety that comes with finding a job.  And a major part of our employment success is a well-written resume. But even the most gifted writer can struggle in this area.

Truth be told, it's not always easy to market yourself – especially if you have employment gaps or a criminal history to explain.  That is why we are grateful for volunteers like Brad Jude, who devote their time and talent to helping Gilgal women overcome employment barriers and see the potential God has for them.

Brad has been volunteering with Gilgal for the past year teaching a resume writing workshop.  During this 12-week course, he uses his extensive experience as a corporate consultant and volunteer career coach to help residents develop an effective resume.  He also offers them interview tips, teaches them to write cover letters and helps them define their career goals.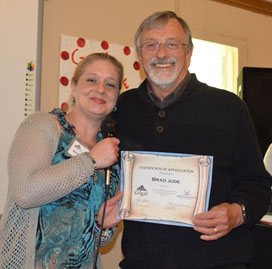 "I love Mr. Brad's class," says Gilgal resident Amberly.
"I have really learned a lot from him, and his class helped me put together a resume I am proud to give out.
I also liked his practice interviews because they helped me build my confidence about going back to work."
Thank you Brad for being a ChangeMaker!  Changes Happens at Gilgal because you serve!  #changehappens  #mygilgalstory
Download this story:  Changemaker Brad Jude